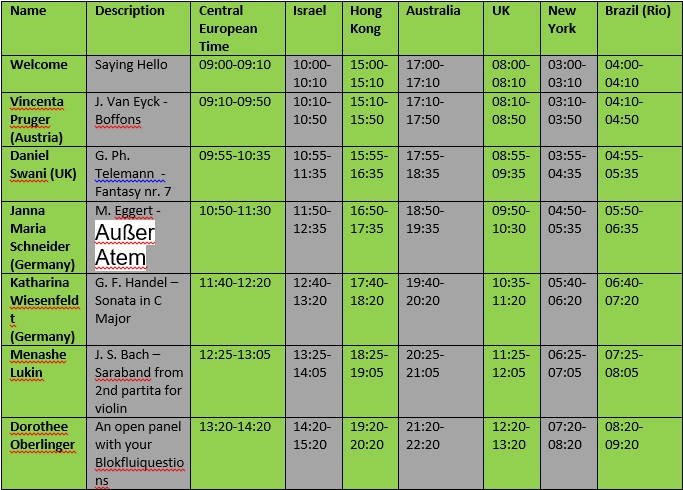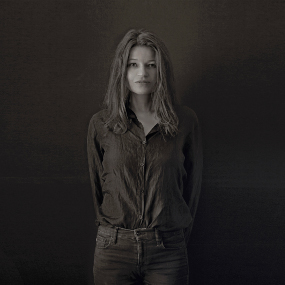 (This text is taken form the website of Dorothee Oberlinger):
Dorothee Oberlinger is one of the most amazing discoveries of recent years, an expressive virtuoso who – quite rightly – received numerous awards while still quite young. Today she is seen as one of the best recorder-players in the world. Her concerts have been received with enthusiasm by critics and audiences alike, earning her unanimous acclaim. Her CDs are regularly fêted as the best new issues on the market.
Dorothee Oberlinger has given solo recitals at festivals all over Europe, in America and Japan, for example at the Ludwigsburger Schlossfestspiele, the Musikfestspiele Potsdam, the Settimane Musicale Stresa, the Nederlandse Oude-Musik-Network, the Festival de Musica Antigua Sajazarra, the Warsaw Beethoven Festival, the Europäische Musikfestwoche Passau, the Rheingau-Musikfestival, the Tage der Alten Musik Regensburg and the MDR-Musiksommer. Other venues in which she has played include the Wigmore Hall in London, the National Philharmonie in Warsaw, the Marianischer Saal in Lucerne, the Rosée Theater in Fuji and the Philharmonie in Cologne.
She has been the guest soloist with leading international Baroque ensembles such as London Baroque and Musica Antiqua Köln directed by Reinhard Goebel, and she also plays regularly with modern symphony orchestras such as the WDR-Rundfunk-Sinfonieorchester and the Detmolder Kammerorchester.
Dorothee Oberlinger collaborates particularly intensively with the top Italian ensemble "Sonatori de la Gioiosa Marca", with whom she has given many concerts throughout Europe. Their joint CD of concertos by Antonio Vivaldi has received numerous awards from the international musical press.
She directs her own "Ensemble 1700", which she formed in 2003. Together they have realized a wide variety of projects relating to the music of the 17th and 18th centuries.
In 2004 Dorothee Oberlinger was appointed professor at the renowned Mozarteum academy in Salzburg.
Masterclass Schedule (Central European Time):
09:00 – Gathering
09:10-09:50 – Vincenta Pruger (Austria) – J. van Eyck: Boffons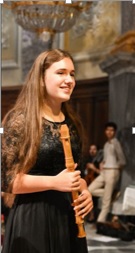 My name is Vincenta Prüger and I live in Austria in Payerbach an der Rax, which is about an hour car drive away from Vienna.
Currently I am in my pre-studies at the Joseph Haydn Conservatory in Eisenstadt.
I am 15 years old and play the recorder and the piano.
In this masterclass with Dorothee Oberlinger I want to work on "Daphnoé" from Francois Rossé or on "Boffons" from Jacob van Eyck.
09:55-10:35 – Daniel Swani (UK) – G. Ph. Telemann – Fantasy no. 7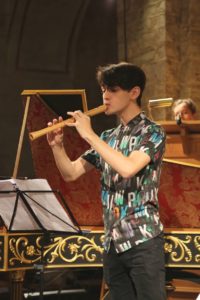 I am currently a student at the Royal Academy of Music in London, where I have lived all my life! I love playing orchestral music on the flute as well as baroque solo and chamber recorder repertoire. When I'm not practising or performing I like to play with cats.
10:50-11:30 – Janna Maria Schneider (Germany) – M. Eggert – Außer Atem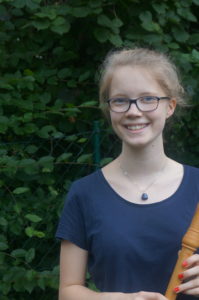 Janna Maria Schneider (18 years) is a recorder student from Cologne who has been studying at Hochschule für Musik und Tanz Köln with Kerstin de Witt for two semesters. In the past, she has been rewarded prizes from national and international competitions and participated in concerts and projects regarding chamber music as well as solo interpretations. In her studies she aims to combine early music and contemporary works equally to explore the great variety of recorder music.
11:40-12:20 – Katharina Wiesenfeldt (Germany)- G. F. Handel – Sonata in C Major
12:25-13:05 – Menashe Lukin (Israel) – J. S. Bach, Sarabande from Violin Partita No. 2 (adapted for recorder by F. Bruggen)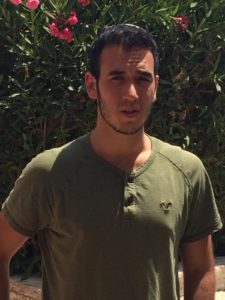 My name is Menashe Lukin, I am 20 years old, currently studying with Prof. Michael Melzer, after completing 6 years at the Jerusalem Conservatory Hassadna with Idith Paz. In 2020-2021 I will start the BA at the Jerusalem Music Academy. I studied in a rabbinical college (yeshiva), where I researched the Jewish religious music, its theological background and its meanings. The book that influenced my playing is "Zorba the Greek" by Nikos Kazantzakis, it made me search for freedom in my interpretation.
13:20-14:20 – Q & A with Dorothee.
The online meeting will be held in English.